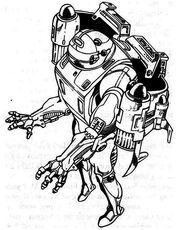 Inertia Armor generates an energy field that augments the inertia of incoming objects, thus lessening the force inflicted against the suit by half. It is also fully environmentally sealed against radiation or environmental toxins. The suit increases user movement and contains a jet-assist system for making extended jumps across great distances.
Ad blocker interference detected!
Wikia is a free-to-use site that makes money from advertising. We have a modified experience for viewers using ad blockers

Wikia is not accessible if you've made further modifications. Remove the custom ad blocker rule(s) and the page will load as expected.